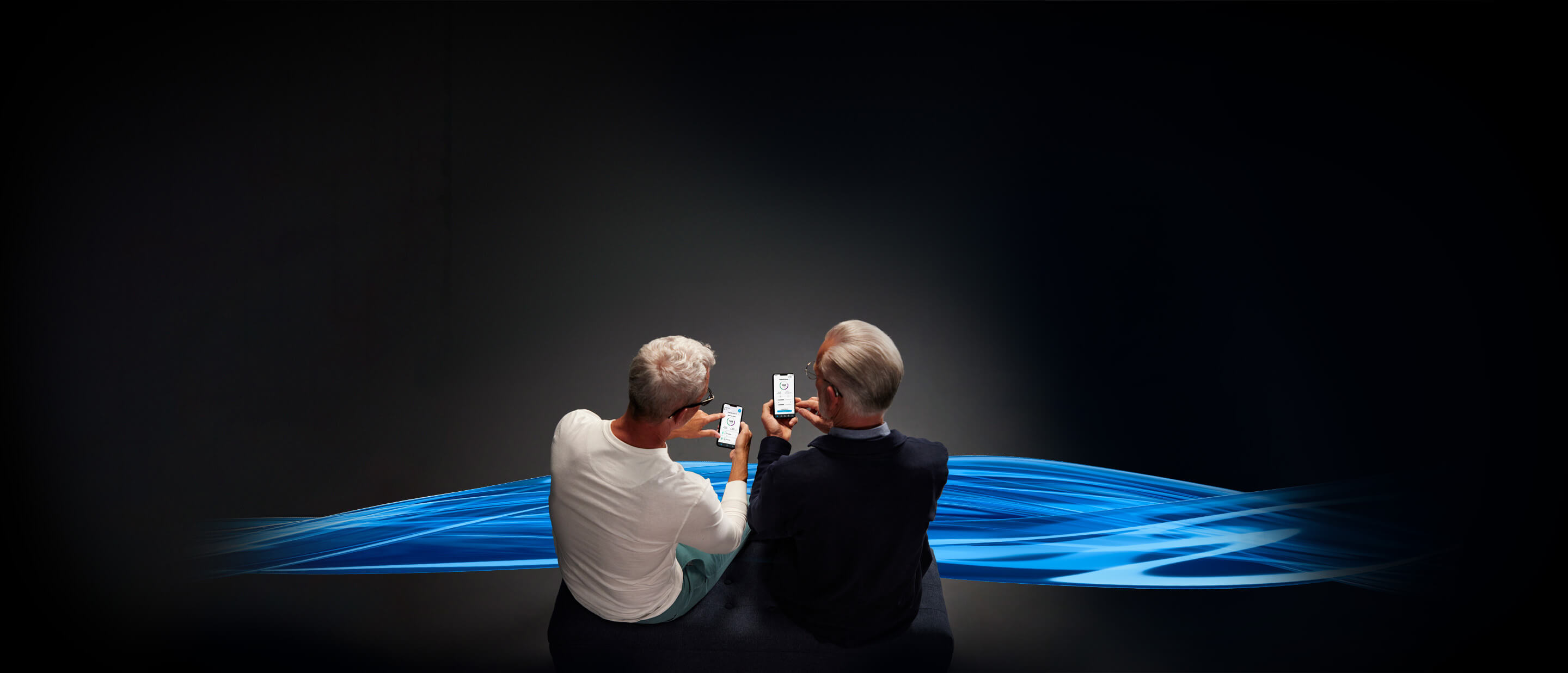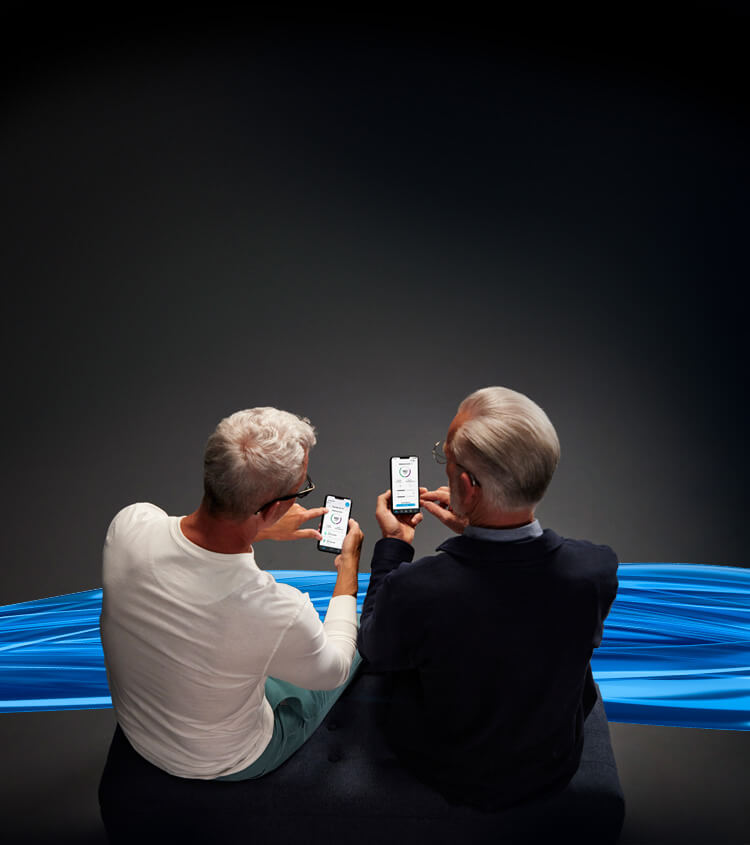 Next-level sound.
Next-level everything.
NEW in effortless hearing.
NEW in effortless hearing.
Enhanced 2-Way Audio so patients can now take & end calls with their hearing aids*
*For Apple devices
40% additional reduction in wind and noise*
*Compared to previous technology
Improved Edge Mode for even clearer sound in noise
Improved TeleHear remote programming and easier to use Inspire X software
Simplified
Android pairing
Re-engineered for 17% higher rechargeable battery capacity and up to 50% less current drain in noisy conditions
Clearer sound.
Less background noise.
Effortless hearing.
Evolv AI now features even clearer Starkey Sound™, with 55 million automatic adjustments per hour. Evolv AI now expands its 40% additional reduction in noise energy* to include wind and machine noise. And enhanced Edge Mode offers even clearer sound in cars and other vehicles. It offers better sound quality in all listening environments, so you can help your patients hear better and live better.
Download to learn more
* Compared to previous technology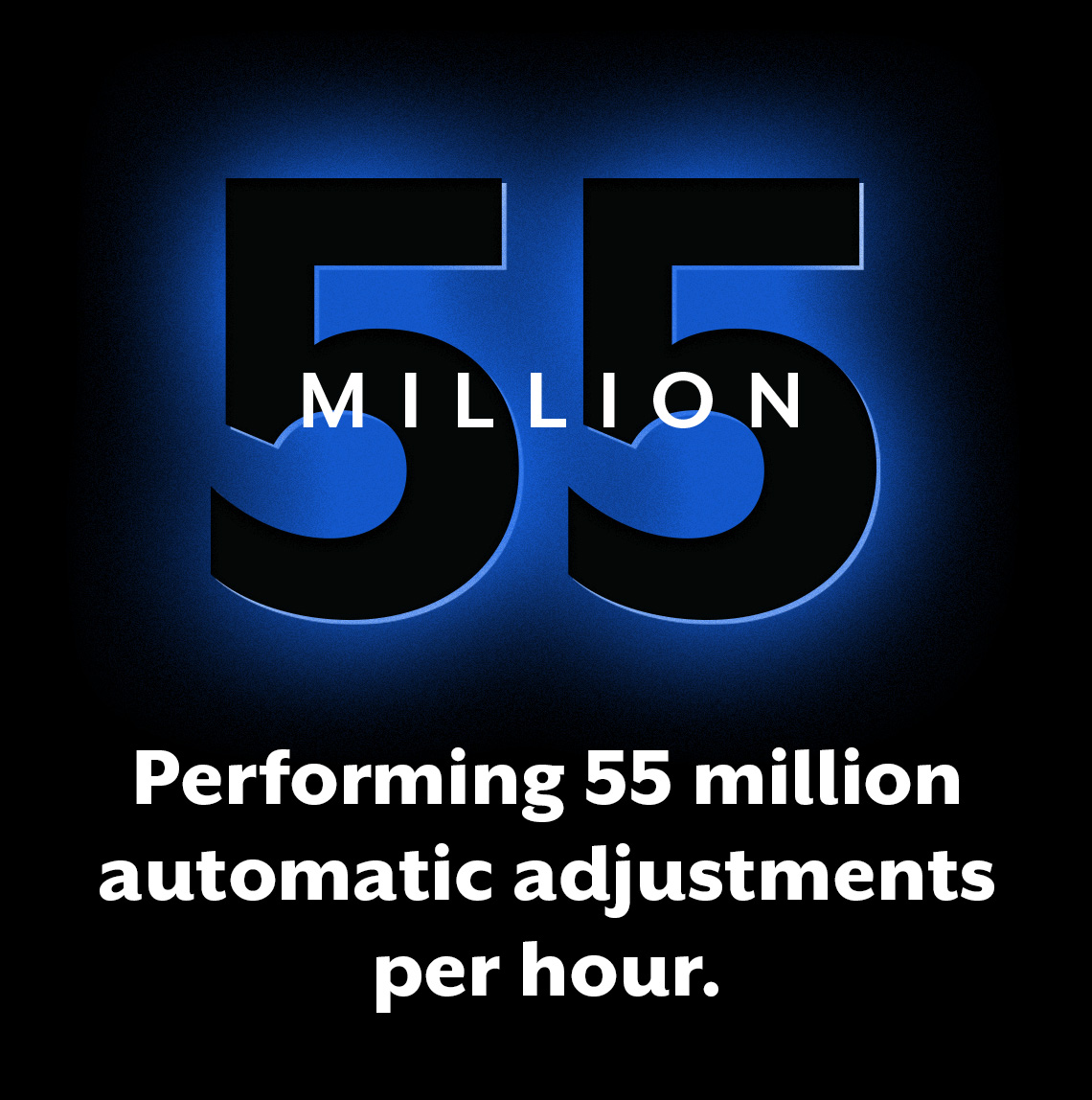 Effortless hearing
Evolv AI is Starkey's newly enhanced, complete family of the world's most innovative hearing technology that seamlessly connects and adapts with your patients' lives.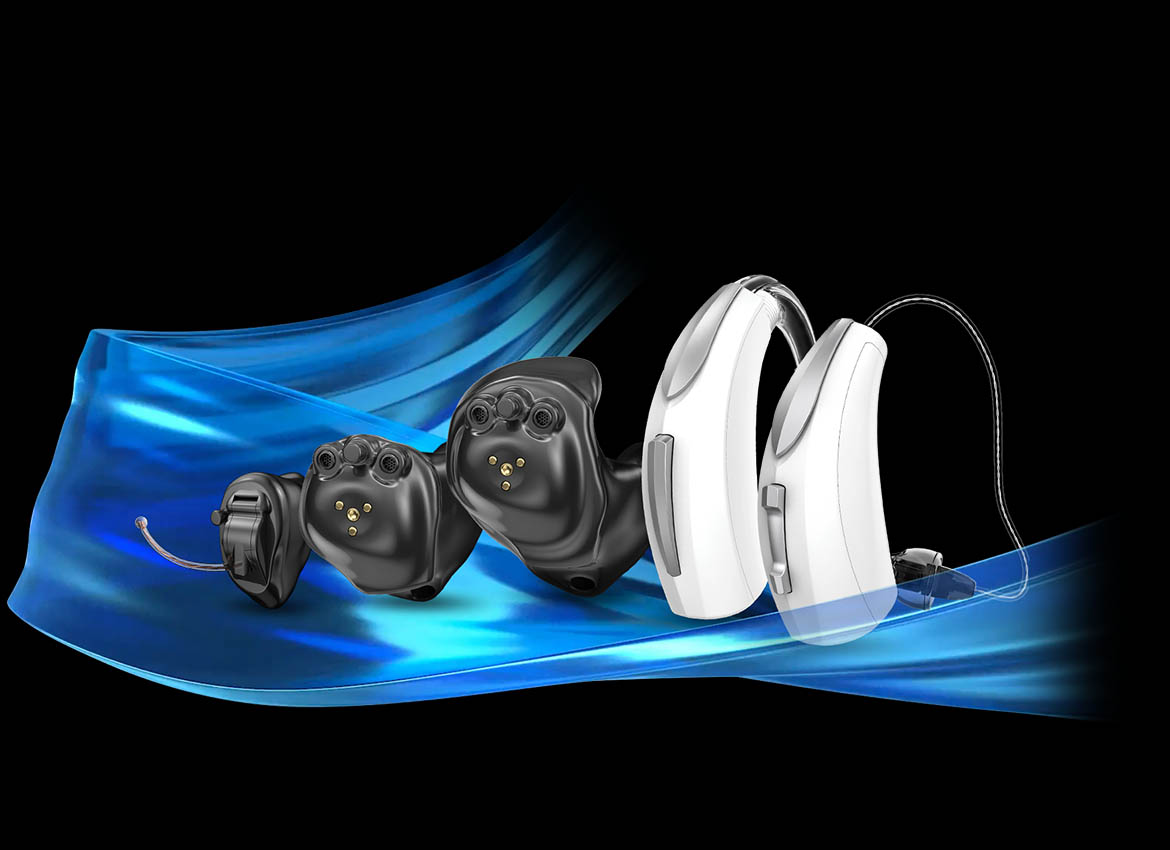 The awards speak for themselves.
Starkey is proud to be recognized for our breakthrough technology and innovative design.
Effortless selection
At Starkey, we continue to evolve our hearing aids to make them more comfortable, more wearable, and more effortless. Evolv AI features a newly designed power dome earbud that fits more comfortably in the ear. It's the perfect combination of exceptional sound quality and a full line of easy-to-fit hearing aids that meet every patient's need.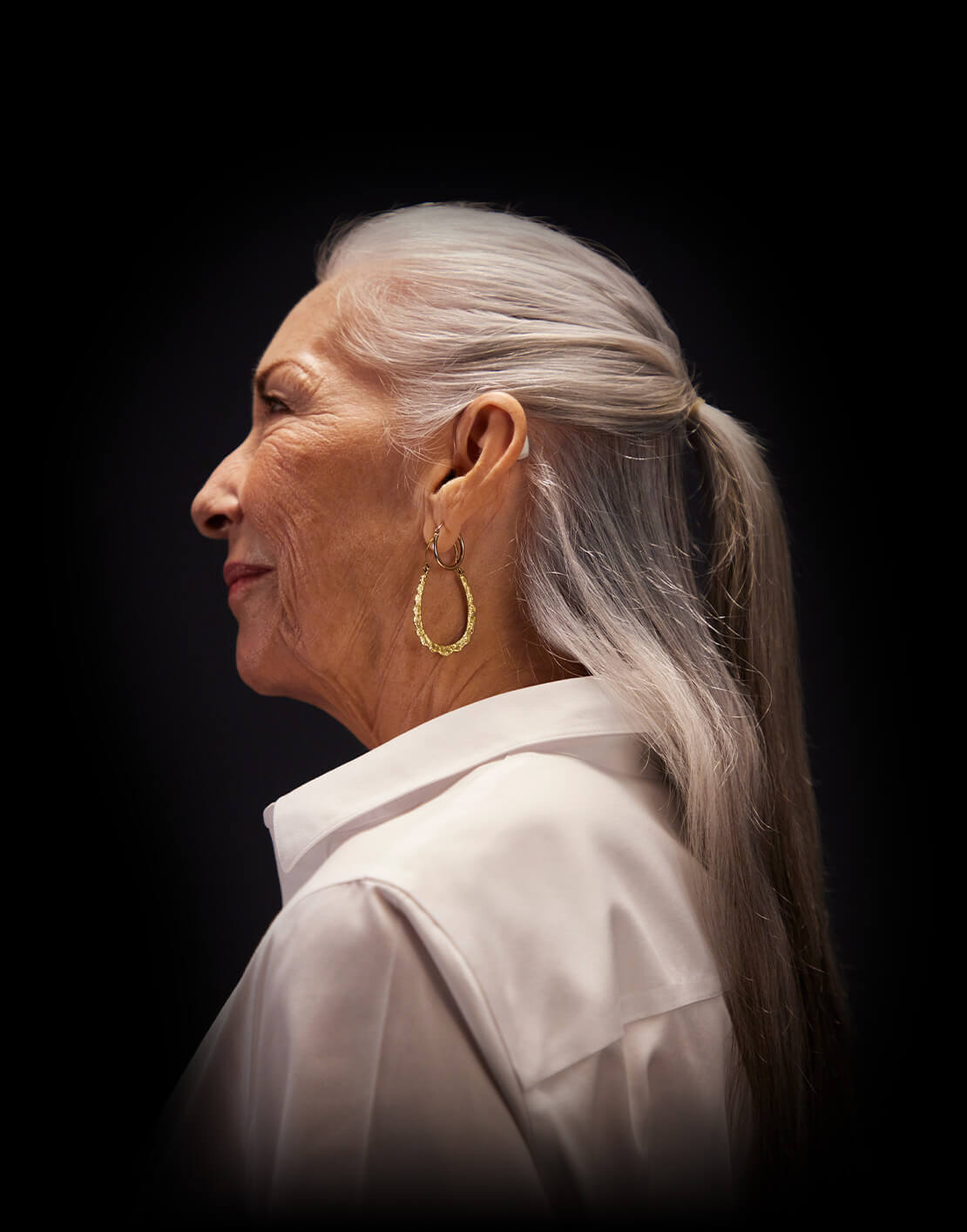 Effortless connectivity
With improved connection, more Android connectivity than ever before, and our best sound quality, patients can seamlessly experience and enjoy their favorite TV shows, music, and conversations. And with health and activity tracking — an industry first for Starkey hearing aids — Evolv AI even more effortlessly fits with your patients' lifestyles.
2-Way Audio
Edge Mode
Fall Alert
Health Monitoring
TeleHear
Features
Our latest technology provides exceptional sound quality plus advanced features and capabilities.
HEARING PERFORMANCE
55 million automatic adjustments every hour to deliver realistic and genuine sound quality in every listening environment.
Now, Evolv AI wireless hearing aid microphones pick up and stream voices directly back to select iPhone and iPad models, allowing patients to seamlessly talk hands-free.
Complete line of rechargeable hearing aids, including the world's first and only 2.4 GHz custom rechargeable hearing aids.
Putting AI into every patient's hands with on-demand features like Edge Mode has proven speech audibility advantages.
Thanks to the power of AI, this always-learning speech enhancement feature uses the wearer's iOS smartphone to deliver an unprecedented experience for those with moderate loss of 50 dB HL or greater.
Enhanced performance now lets users enjoy their music or favorite TV shows like never before.
Create multiple custom memories including geotagged memories like, "coffee shop" or "home."
Patients can change volume and switch memories easily using a tool in the Thrive app.
Automatically and conveniently saves battery power when the patient's hearing aids are not in use.
HEALTHABLE TECHNOLOGY
Tracks daily steps, measures movement and monitors more vigorous physical activity.
Monitors the health benefits of wearing hearing aids by tracking things like active listening.
Detects when a hearing aid wearer falls and sends an alert message to selected contacts.
INFORMATION ASSISTANT
Even more flexibility and fine tuning for your patients, wherever they are. You can seamlessly make adjustments virtually to their hearing aids.
Helps patients easily locate misplaced hearing aids providing a location and a timestamp.
With just a double tap, our hearing aids can be set to activate Edge Mode, Thrive Assistant or Start/Stop Audio Stream from 2.4 GHz accessories.
Provides a quick, convenient way for patients to analyze their hearing aid system's performance.
Provides quick answers to questions like, "how do I adjust volume?" or "what's the weather?"
Patients can communicate with people who speak other languages.
Provides the option to schedule alerts for things like taking medications and other personal tasks.
Conversations are transcribed into text that can be saved or shared.
Enhanced 2-Way Audio
Your patients can hear and connect effortlessly with hands-free conversations.
Evolv AI is updated to deliver 2-Way Audio in every wireless style. Now, your patients can take and end calls* directly from their Evolv AI hearing aids instead of their Apple device. Plus, hearing aid microphones pick up and stream their voice directly back to iPhone and iPad,* allowing your patients to seamlessly talk hands-free.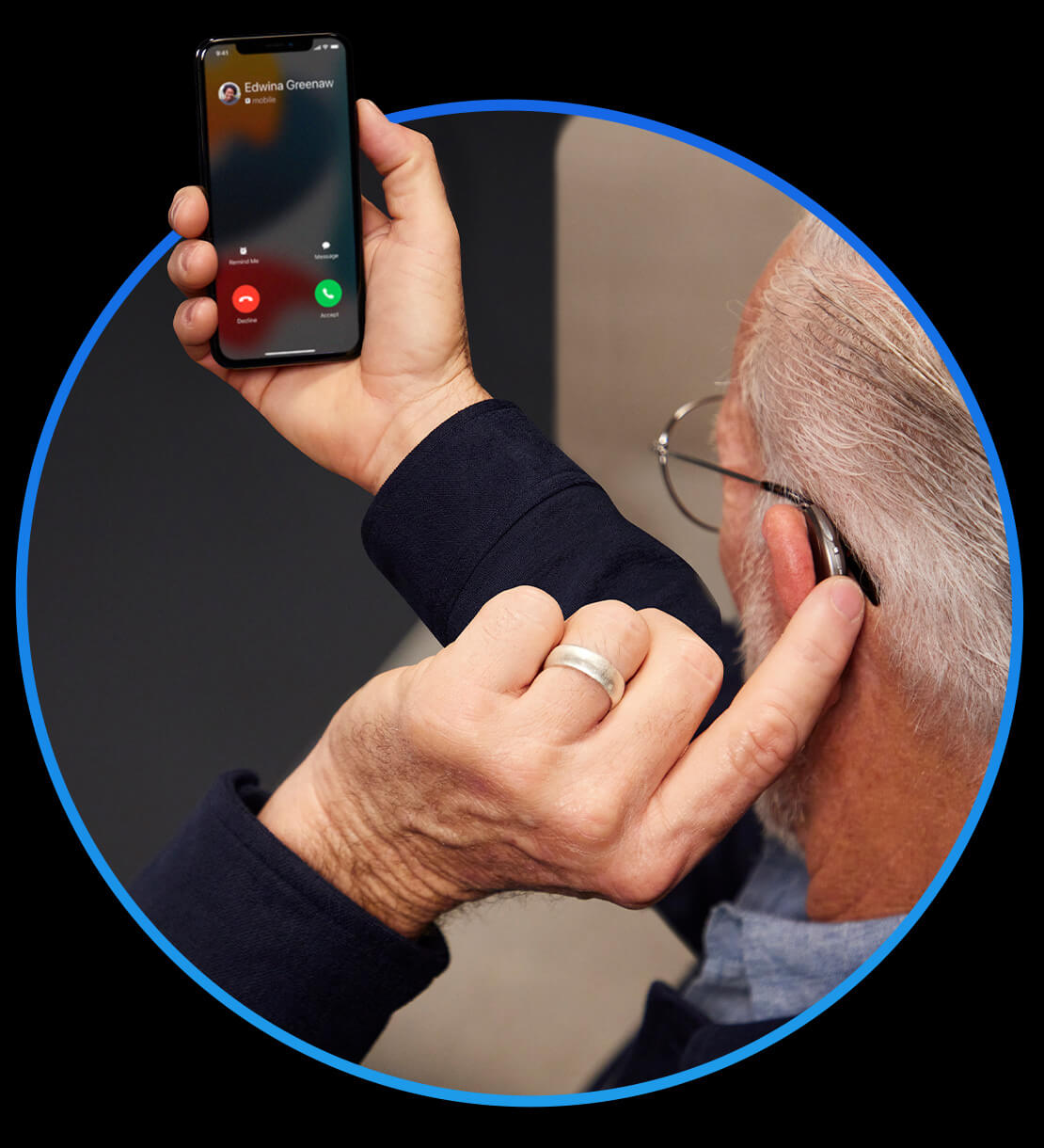 Effortless fitting experience helps you work more efficiently.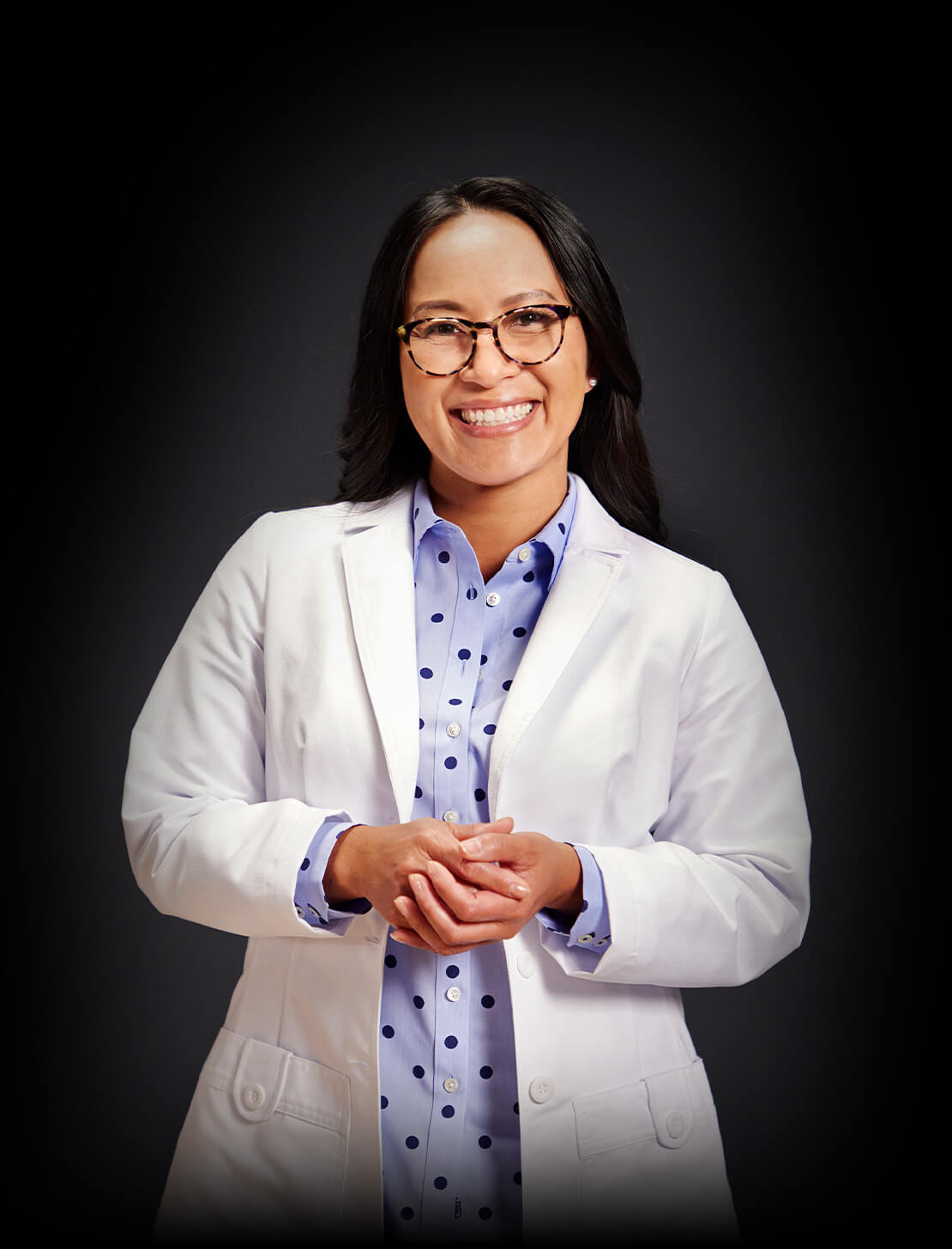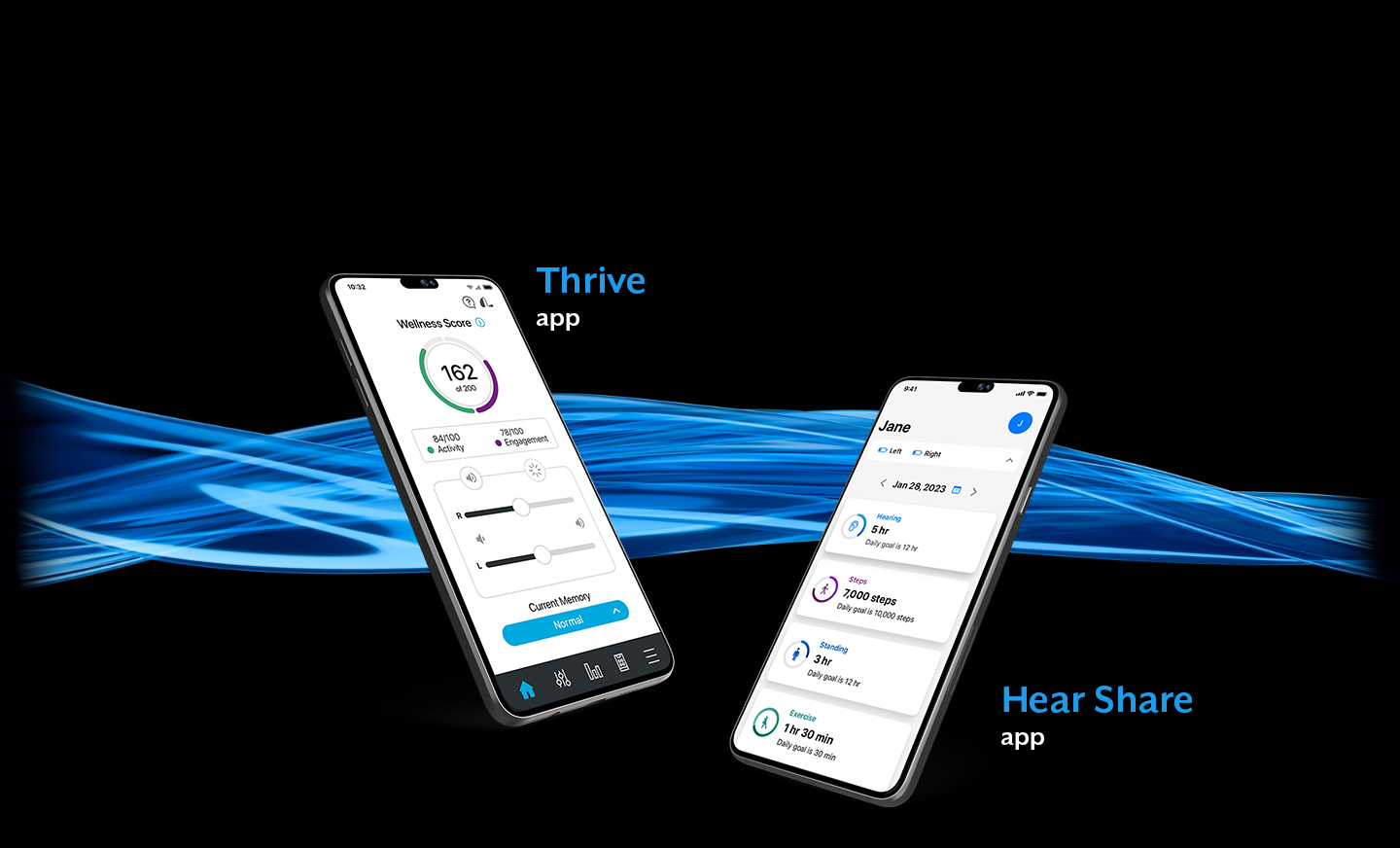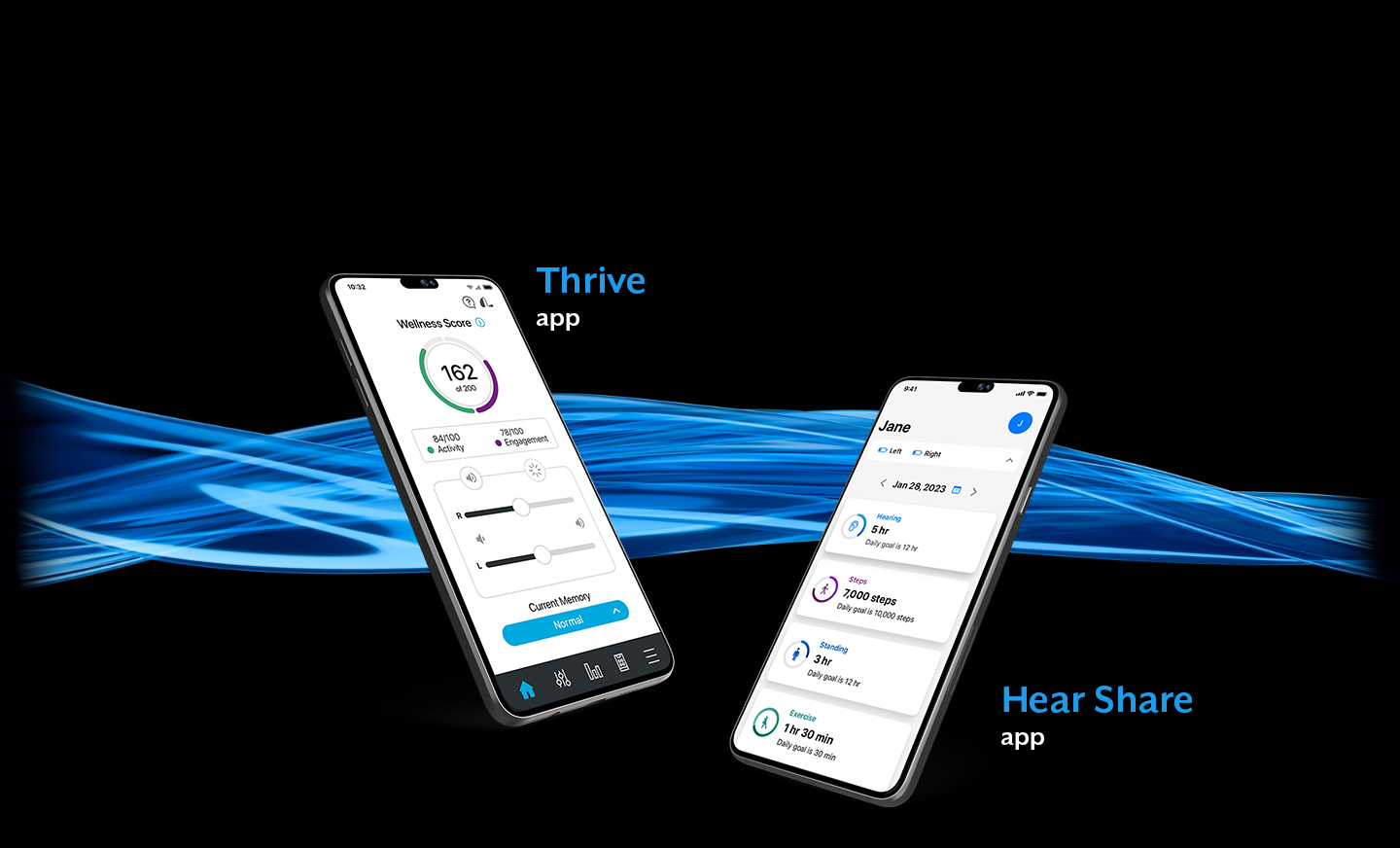 Do more with Thrive
With the industry's first health and activity tracker

The Thrive Hearing Control app delivers powerful features that are designed to help patients monitor activities to live healthier — while Hear Share provides peace of mind for caregivers.
Accessories your patients will love
Patients connect effortlessly to their world with our versatile line of accessories.