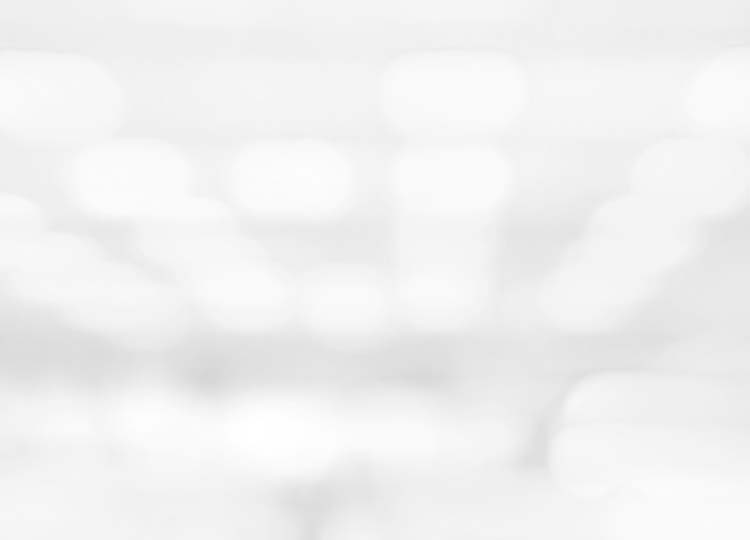 Research & publications
Count on us to help keep you up to speed on the latest research, trends and hearing health technology.
About Starkey Research
Our researchers at Starkey are leaders in developing innovative hearing aid technology and exploring important questions about hearing loss, balance, cognition, and the connections between hearing and socialization. Bringing together expertise in clinical audiology, psychoacoustics, cognitive psychology, acoustical engineering, and advanced statistics, our team aims to continually improve the lives of patients by ensuring that our technologies provide opportunities for a healthy lifestyle, social participation, and excellent, effortless hearing.
Volunteers from the local community, with and without hearing loss, work in partnership with our researchers to provide insightful feedback and data on the benefits of our newest hearing technology, signal processing algorithms, healthable technologies, smart sensors, and intelligent assistant features. Through this research we continue to redefine what a hearing aid can do — for example, by using state-of-the-art machine learning techniques to make the experience of listening in noisy environments less challenging and effortful, and by using sensors to detect falls.
Besides pushing the boundaries on hearing aid technology, our researchers also work to verify and validate every feature, ensure usability, and develop evidence-based audiological practices. In short, the research team at Starkey truly helps to define what it is to Hear Better, Live Better.
Starkey's research facility is located at our global headquarters in Eden Prairie, Minnesota.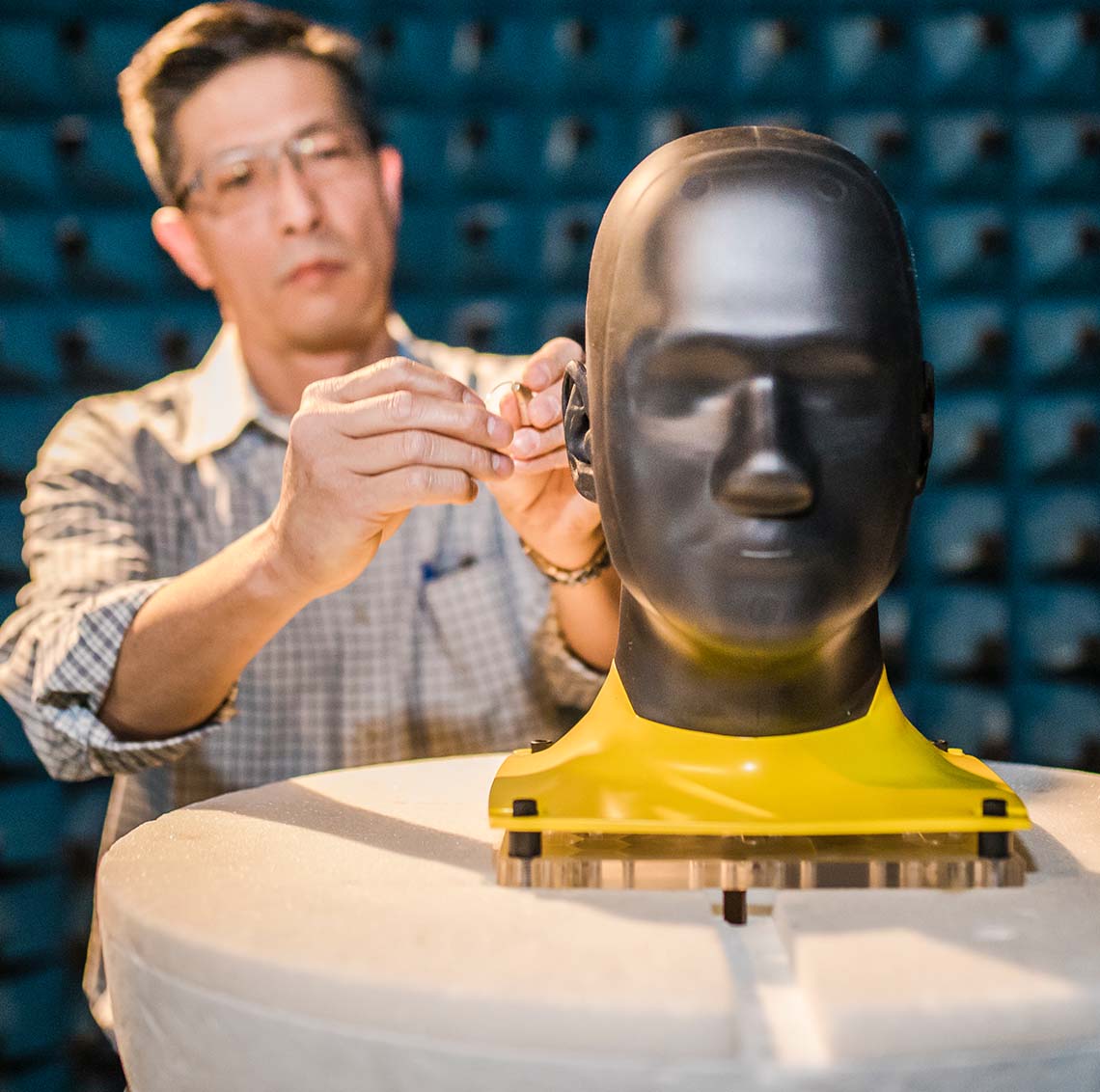 Recent publications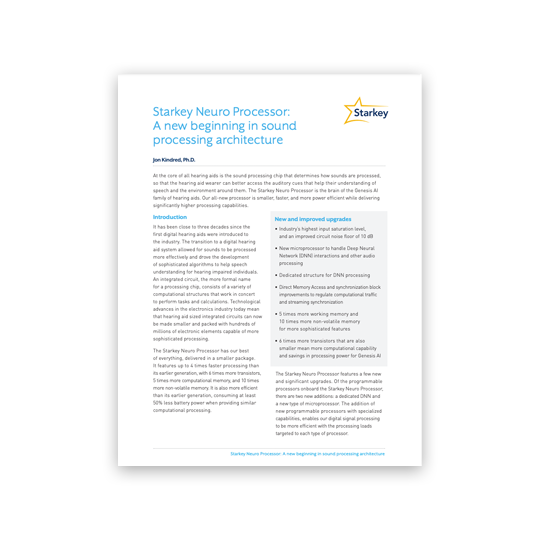 Starkey Neuro Processor: A new beginning in sound processing architecture
The Starkey Neuro Processor is the brain of the Genesis AI family of hearing aids. Our all-new processor is smaller, faster, and more power efficient while delivering significantly higher processing capabilities.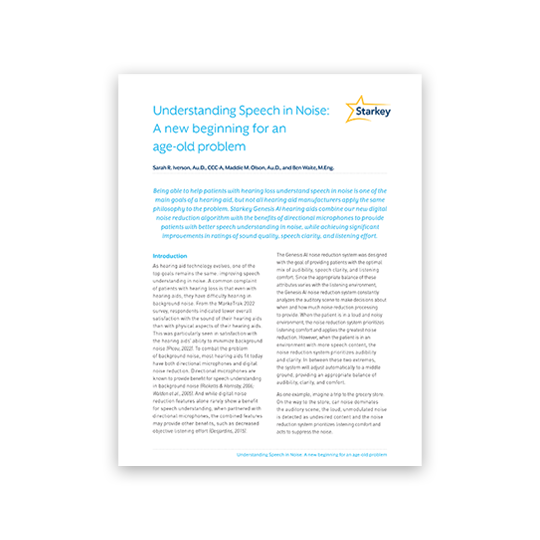 Understanding Speech in Noise: A new beginning for an age-old problem
Genesis AI hearing aids combine our new digital noise reduction algorithm with the benefits of directional microphones to provide patients with better speech understanding in noise, while achieving significant improvements in ratings of sound quality, speech clarity, and listening effort.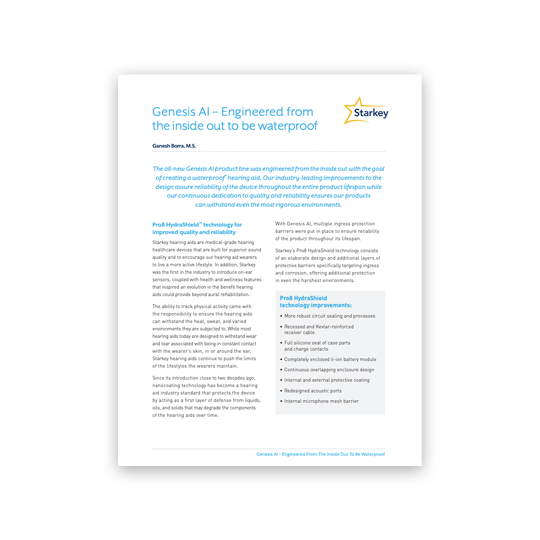 Engineered from the inside out to be waterproof
The all-new Genesis AI product line was engineered from the inside out with the goal of creating a waterproof (up to 1m) hearing aid. Our improvements to the design assure reliability of the device throughout the entire product lifespan while our continuous dedication to quality and reliability ensures our products can withstand even the most rigorous environments.